The project demonstrates how to recover grey partridges for conservation and shooting purposes in an area where they have gone locally extinct in the 1990's and to show which benefits this has for biodiversity in general.
The project also demonstrates how to manage a wild bird shoot for partridges (grey partridge and red-legged partridge), pheasants, woodcock and brown hare. The demonstration project was initiated with a four-year re-introduction experiment in 2004 alongside habitat management and moderate predator control.
The current demonstration project was started in 2010 with the employment of a professional wild bird gamekeeper and the implementation of high-quality habitat management tailored to grey partridges supported by a Higher Level Agri-environmental Scheme. In 2014 the re-introduction of partridges has been stopped and the population is now entirety wild. In order to provide guaranteed shooting during the recovery years of wild gamebirds, 600 cock pheasants are being released from mobile pens annually to supplement the wild stock (no other gamebirds are released in the project area).
Shooting is focused on cock pheasants only, brown hare and roe deer, with woodcock and pest species supplementing the bags (such as corvids, jay, wood pigeon). Partridges shooting has started in 2016 at a sustainable level, based on autumn stock numbers.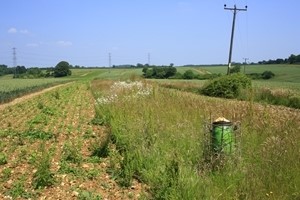 Country: United Kingdom,UK
Region: Hampshire
Starting date: 2010
Species: Grey Partridge (Perdix Perdix), Woodcock (Scolopax Rusticola), Lapwing (Vanellus Vanellus), Tree Pipit (Anthus Trivialis), Brown Hare (Lepus Europaeus), Red Fox (Vulpes Vulpes)
Species characteristics: Huntable species, Protected species, Threatened species, Abundant species, Migratory species
Type of actions: Management of habitats and wildlife, Research and data collection, Communication, Policy work, Enforcement
Leading partners: The Game and Wildlife Conservation Trust, Rotherfield farms