In 2003 the National Hunting and Fishing Society Union of Hunters and Fishermen in Bulgaria (NHFS – UHFB) launched and agreed on a National Programme for Sustainable Wild Game Population Development within its system through wild game resettlement. The Programme started operating the following year and since then, it has ensured the annual wild game resettlement in the hunting grounds of the members of the Union of Hunters and Fishermen in Bulgaria.
The Programme is funded entirely by Bulgarian hunters and involves only organisations that are members of the National Society. The Programme?s primary aim was to resume resettlement activities and to restore and rise wild game population levels as small game stocks had run very low between 1997 and 2002 to such a degree that the number of hunters in some areas was higher than the small game population level. The minimum quantities of resettled wild game in those years also contributed to this situation ? in the late 1980s 700,000 birds were resettled per year and in 1997 the lowest level of 21,000 birds was reached.
That is why there is a need for the government to design national policies aimed at incorporating and formulating core principles and requirements for each organisation. One of these policies is oriented to artificial breeding and resettlement implemented by the National Society through the National Programme for Sustainable Wild Game Population Development within its system through wild game relocation. The Programme has been operating for 15 years and during this period more than 2 million birds such as pheasants, partridges, chukar partridges and semi-wild mallard ducks have been resettled in the hunting grounds.
The Programme's 2004-2012 objectives were focused on providing farm-raised game birds for resettlement into the wild, and since 2013 the provision of big game for resettlement has been included. Since 2019 the provision of farm-raised rabbits for resettlement has been added to the Programme. The National Programme and resettlement activities are financed by hunting organisations and funds made available under Art. 65a (4) of the Rules for Implementing Law on Hunting and Wild Game Conservation, which represents 21% of the value of hunting permits. In this sense, resettlement is funded entirely by Bulgarian hunters who have invested in this activity over BGN 20 million for the last 15 years.
Farm-raised game for resettlement is provided by the following farms within the National Society: Diana in Yambol, Dryan in Pleven, Dunav in Ruse, Dabnika in Vratsa, Maritsa in Kostenets, Panega in Lukovit, Sinite Kamani in Sliven, and a game farming enterprise within the Hunting and Fishing Society in Blagoevgrad.
There were no production technology problems a long time ago but resettlement failed to be fully efficient at this stage. This has been confirmed by recent research which shows low survival rates due to lack of rearing and adaptation.
Resettlement Activities
An annual average of 150 thousand farm-raised game birds and 150 fallow deer are resettled under the National Programme in the hunting grounds of member organisations of the Union of Hunters and Fishermen in Bulgaria. More than 500 farm-raised rabbits were also available for resettlement in 2019. These are figures while the resettlement activity itself is the final stage of breeding and rearing which begins with selecting flocks to breed, producing and hatching eggs, raising small chicks to a certain age on the farm. The same is needed concerning rabbits ? mating rabbit breeders, the birth of kits and their raising until they grow up enough. The process of rearing and adaptation within runs in the hunting grounds of organisations comes next, and only when a bird or rabbit is adapted, i.e. they have turned into game, they are set free into the wild. Resettlement is very often understood as the action of releasing game in wildlife habitats whether from cages or vehicles used to transport it far off farms.
But this is not resettlement. Resettlement takes place only when all its stages are met ? production, rearing and adaptation. The adaptation of farm-raised game before their releasing in natural habitats is essential to their ability to survive in the wild. This is the time for the farm-raised game to develop their instinct, get used to eating natural food (they are fed with feed mixtures on farms), and stay away from predators and humans. Resettlement is effective only when prerequisites are created for game to learn how to survive in the wild, and the adaptation to natural environments is the mandatory and most important condition that ensures their survival after resettlement. A successful adaptation needs to select an appropriate place to set up a run in the hunting grounds. It must be set up in typical habitats with access to natural shelters and food.
There must be provided with enough area for a single bird/rabbit. During the adaptation process human presence must be limited and natural food must be available for the game within the area. Attention should be paid to the duration adaptation process, there is not a recipe for this but it must last as long as it takes for the farm-raised game to develop their instinct and learn how to survive in the wild. It is the facilities building and their using as intended in rearing and adaptation of farm-raised game where more effort must be put into. To achieve this the National Society co-finances the building of facilities within the organisations' area through the National Resettlement Programme. The co-financing approach has been chosen to make the project sustainable and engage hunters from organisations in implementing long-term activities.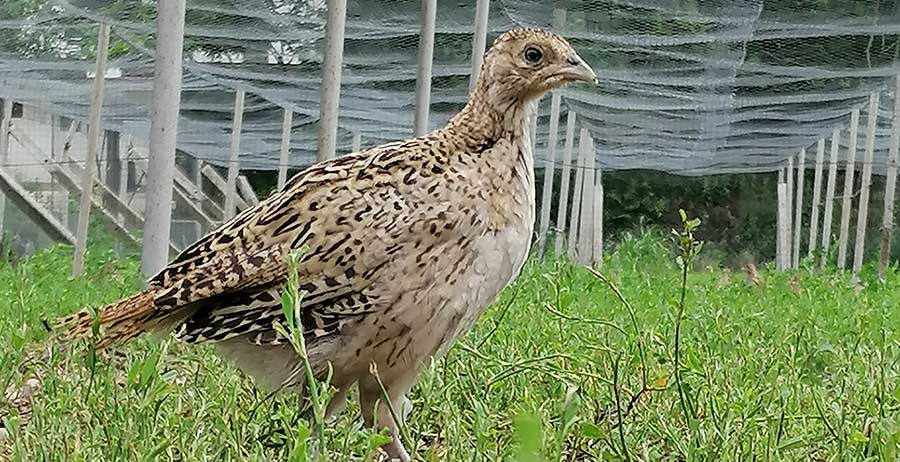 Resettlement of farm-raised rabbits
The rabbit is in danger of becoming extinct in Bulgaria but its resettlement into the wild is not a solution. Increase in rabbit population requires taking a set of effective measures aimed at reducing the danger of poaching, predators and stray dogs, agricultural machinery, as well as at providing regular feeding up and improving living conditions in habitats, and imposing a ban on hunting, if needed. In the Czech Republic and Austria, if in autumn there are less than 20 rabbits per 100 ha, their hunting is banned, and in Serbia rabbit hunting is banned when there are less than 10 rabbits per 100 ha. Recent research shows that the rabbit population in Bulgaria, residing in the greater part of the lowlands habitats, has decreased to 1 or 2 rabbits per 100 ha, and only in few areas their number reaches 5 or 6 rabbits per 100 ha. If we manage to address these factors influencing strongly rabbit stocks, resettlement will not be needed.  Resettlement of farm-raised rabbits was first included in the co-financing plan in 2019 as part of the implementation of the National Resettlement Programme.
But it is worth noting that farm-raised rabbits differ from the wild ones whose instinct is preserved. Farm-raised rabbits need to be adapted to natural environments like any game raised in artificial living conditions, and it is no less important than what quantity of rabbits are resettled per unit area/hunting area. Purchase of a quantity larger than 10 or 20 rabbits and the resettlement of 2 rabbits per a hunting area, as some organisations usually do, require significant financial resources to be allocated since the price for a rabbit is BGN 140. It is where the question arises whether it is not too expensive venture that could hardly justify the money and the expectations of hunters and could hardly be enough to save Bulgarian rabbits. The topic of rabbits in Bulgaria is extremely important, and it is necessary to give greater publicity to the research that has been conducted in recent years, its results, the recommendations made and the measures proposed that will lead to a considerable increase in the number of rabbits in Bulgaria.
The purchase of farm-raised rabbits and their release into the wild is the easiest decision but it is not enough. With thanks to Iva Petrova and the Union of Hunters and Anglers in Bulgaria (UHAB). For more information please visit their website.
Country: Bulgaria
Starting date: 2003
Type of actions: Resettlement activities
Leading partners: Union of Hunters and Fishermen in Bulgaria