Being active conservationists equally, hunters and falconers together want to make an important contribution to habitat restoration in native hunting grounds by creating suitable breeding opportunities for endangered species. Habitat loss due to bark beetle cuttings and ongoing civilizational land-use leads to the conclusion, that the remaining habitat resources need to be upgraded in quality. Especially the lack of old mature trees with natural tree cavities endangers several fascinating native cavity-nesting species which need our support. Hunting and conserving are inextricably linked! We must use our resources sustainably, along with protecting intact and biodiverse habitats by active shaping and supporting.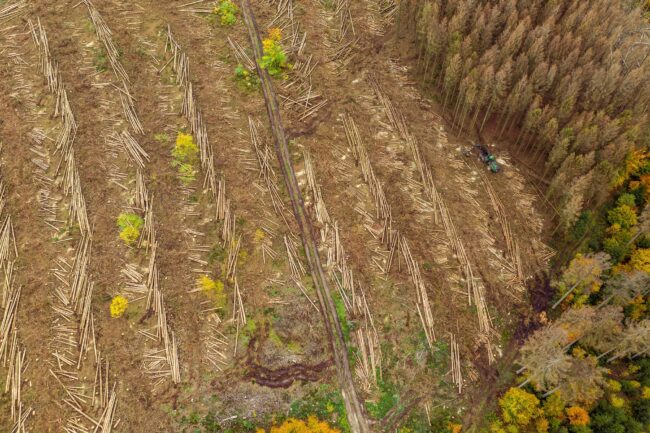 Habitat loss due to Bark Beetle cuttings.
Implementation:
With this conservation goal in mind the Hunters Association of district Altenkirchen in Rhineland-Palatinate (Landesjagdverband Rheinland-Pfalz Kreisgruppe Altenkirchen) and the German Falcon Association – Group Rhineland-Palatinate/Saarland (Landesverband Rheinland-Pfalz/Saarland Deutscher Falkenorden) started a cooperation project supporting species especially the native cave breeding owls.
The first batch of partially special modified nesting boxes were fabricated by the Workers' Welfare Association Siegen in Deuz. They offer space for long-eared owls, brown owls, tawny owls and/or pygmy owl. Following a strategy of individual conceptions regarding box architecture, it is planned to initiate a separate sub project for little owls next year. Especially pygmy owls have proven to be challenging to support as they tend to prefer natural tree cavities over the artificial nest boxes. Because of that some of the standard nest boxes were modified by glueing natural bark elements on the wooden boards in order to give them a non-artificial appearance. Furthermore, the entrances to the boxes were varied to make advances to our smallest owl. For these efforts to be successful, we will continue to find special individual conservation arrangements for this unique bird species.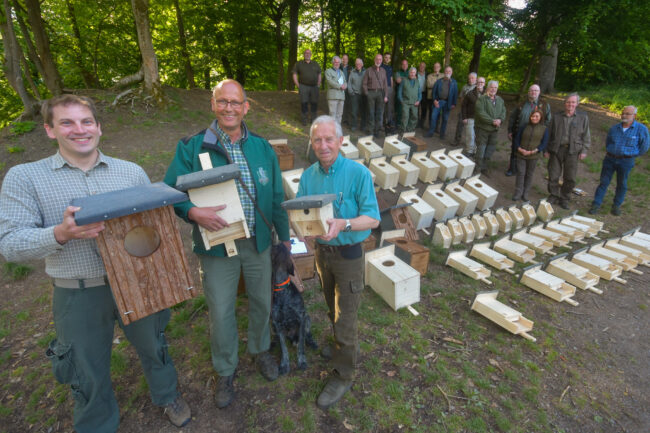 Hunters, forest-owners and representatives of the two initiating organizations
Benefits for more than just the owls:
Of course, it is not only the aforementioned owl species that move into the boxes of our project. Though they are the ones we are focussed on primarily, stock pigeons, jackdaws, even goosanders or goldeneyes as well as squirrels or insects like hornets and wasps will benefit from the installations. Nature never works one-dimensionally! Predators like owls and raptors will only survive when there are enough prey animals. So the project comes along with the installation of nesting boxes for songbirds and bats.
POLICY RELEVANCE
Nature Restoration Plan: The European Commission has put forward a proposal for legally binding EU nature restoration targets in 2022. Restoring EU's ecosystems will help to increase biodiversity, mitigate and adapt to climate change, and prevent and reduce the impacts of natural disasters.
Conclusion:
On May 25th the first batch of the wooden boxes changed hands: some dozen of hunters or forest owners as well as representatives of the two initiating organizations gathered together in the shadow of Castle Freusburg to celebrate a press conference to get the boxes from initiators Wolfgang Stock, Josef Jendrek (both representatives of the Hunter's Association) and Thomas Kühn (Vice Chairman of the German Falconer's Association – Group Rhineland-Palatinate/Saarland). Both organizations co-finance the project assisted by a local building company "Gebrüder Schmidt" from Freusburg.
Support the project:
Those who want to support the project – financially or materially – please inform the project initiators by sending an e-mail to:
Country: Germany
Species: Protected species, Invasive Alien species, Huntable species
Species characteristics: Protected species, Invasive Alien species, Huntable species
Type of actions: Management of habitats and wildlife, Nature education and awareness,
Leading partner: Hunters Association of district Altenkirchen in Rhineland-Palatinate (Landesjagdverband Rheinland-Pfalz Kreisgruppe Altenkirchen) German Falcon Association - Group Rhineland-Palatinate/Saarland (Landesverband Rheinland-Pfalz/Saarland Deutscher Falkenorden)
Other partners: Hunting organisations, Local governments